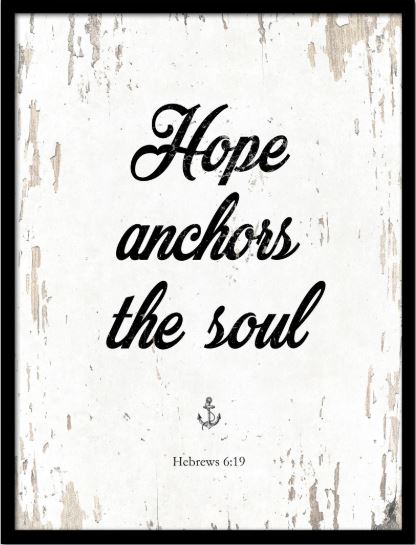 Hebrews 6:19 (NKJV)
19 This hope we have as an anchor of the soul, both sure and steadfast, and which enters the Presence behind the veil,
This verse from the writer of Hebrews brings us to the purpose and promise of Hope. If Hope is a certainty of our spirit and character that centers in our souls it can provide a foundation or anchor to hold our lives in place in midst of our day to day circumstances. This is the same Hope that Paul references in Romans 8
Romans 8 For we were saved in this hope, but hope that is seen is not hope; for why does one still hope for what he sees?
Hope resides in our spirit and keeps looking beyond the challenges we find ourselves in today and to the promise of a better tomorrow. Hope is greater than the mere chance or odds that tomorrow will be better than today. Hope rests in the power of the Holy Spirit as Paul conveys the promise that Hope in Jesus Christ can save our souls. We have not seen the resurrection, but our Hope is in our faith that Jesus lived, died for our sins and was raised by God's power on the third day. That is our Anchor, our Cornerstone, our Faith and our Hope. Until Jesus death the hope of the people was carried by the high priest into the Holy of Holies behind the temple veil to take a sacrifice to God on behalf of the people for forgiveness of their sins. Matthew 27:51 records that at Jesus death the veil of the temple was torn into from the top to the bottom so that it could not have been done by human hands. In Jesus death every individual gets direct access to god with no need of anyone to go to God on our behalf. That direct connection is what the writer of Hebrews and Paul in Romans are defining as our Hope and the anchor of our Faith.