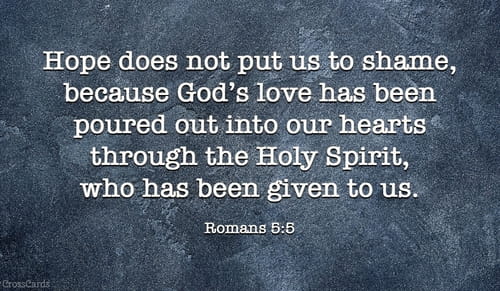 The first week of Advent is opened by Hope. Paul writes to the Church in Rome on the power and certainty of Hope. It is the light by which all other parts of life today and tomorrow are illuminated from thought to possibility to reality. Emily Dickinson said, "Hope is the thing with feathers that perches in the soul – and sings the tunes without the words – and never stops at all."
Hope is discovered as a fruit of our spirit through perseverance in life that builds our character. If Hope, then is a byproduct of our experience and our character it is a state of mind and spirit not an emotion. It is a promise of God granted to us with the Holy Spirit as a part of Gods power and glory and it is always available to us. While our lives may be impacted daily by circumstances we can always rest in the Love of God in Hope for tomorrow. When the darkness of today seems to overwhelm us, Hope is the lamp to a better and brighter tomorrow that God has planned for us.
Romans 5:1-5 (NKJV)
5 Therefore, having been justified by faith, we have peace with God through our Lord Jesus Christ, 2 through whom also we have access by faith into this grace in which we stand, and rejoice in hope of the glory of God. 3 And not only that, but we also glory in tribulations, knowing that tribulation produces perseverance; 4 and perseverance, character; and character, hope. 5 Now hope does not disappoint, because the love of God has been poured out in our hearts by the Holy Spirit who was given to us.