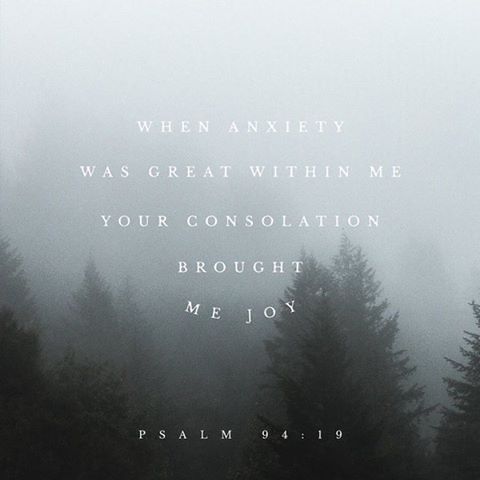 Psalm 94 was penned in a time of oppression for God's people and from the perspective of a good person struggling with why good things seem happen to evil people. We read the Psalms we most often think of King David  and his accomplishments as King. The killing of Goliath, becoming King and winning many battles for God and the growth of a great kingdom. What we don't focus on are the many challengesthat David endured such as the anxiety and fear that plagued David during his life that molded and refined his faith. David had to deal with jealousy from a false friend in Saul, incest and murder within his own family, constant fear of being overthrown as king, moral violations of his own in murder, adultery and lying. I think it is safe to say David had his share of anxiety and stress. Yet he found and wrote in the Palms' of God's love and comfort for him no matter how big his troubles were in life. The 94th Psalm is a testimony for our Faith that God is in control no matter how we see life.
Sometimes we can become very stressed in our day to day lives when circumstances bring us to a place of worry and fear. We like to be able to work through our lives with logic and reason so that we can understand everything. David discovered from his struggles that God's comfort was a source of Joy for him regardless of his anxiety and that no matter how dark things got God would take care of him.
 
Psalm 30:5  (NLT)         
5 For his anger lasts only a moment,
    but his favor lasts a lifetime!
Weeping may last through the night,
    but joy comes with the morning.