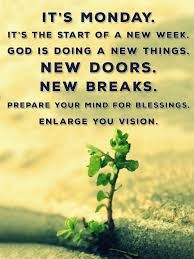 1 Chronicles 4: 9-10     NLT
9 There was a man named Jabez who was more honorable than any of his brothers………………………… 10 He was the one who prayed to the God of Israel, "Oh, that you would bless me and expand my territory! Please be with me in all that I do, and keep me from all trouble and pain!" And God granted him his request. 
Monday is the beginning of our traditional work week and we will be entering into an exchange of labor for resources to support ourselves and our families. It is often looked on with a negative attitude because many of us go to jobs rather than a career. The difference is great and lies mostly in our spiritual view of our lives and the direction we are going under God's purpose. Both a Job and a Career are identical in the exchange above of time and energy for a return of resources in money and benefits. The great difference sits with us in our view of them and how we live. Also, in how we see the results of our efforts affecting others. If we go in to work on Monday with our head down and just do our tasks until the end of the week with no thought or interaction with others that our work might affect will for sure be looked back on one day as only a job. If we can connect our heart and spirit to our work and establish it as vocation then a career develops where we see and understand the impact of our efforts for ourselves and others. It also will move us to look ahead and plan our future in light of God's direction and always seek as Jabez did for God to "bless us and expand our circle of influence and keep us out of trouble."  This will allow us to look at Monday as a day of NEW opportunity and working toward a vision and goals we have set for ourselves based on God's purpose for us in life.